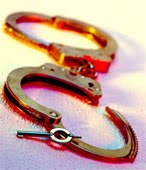 Hey everyone ... I'm going behind bars on April 14, as a way to raise money for MDA..
Can you help "bail" me out with a donation?
Lansdale Lockup 2010: nona breaux
I'm representing The Reporter for this fundraiser.
You can check this all out at the above link....
Thanks for any help for this great cause!
Or for more information in case you want to send a check instead of using the MDA site, just email me at nbreaux@thereporteronline.com