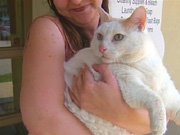 I really felt sorry for this chunky kitty this morning, as her photo and video made it to every news media imaginable ... and now this blog.
After all, how would you like your weight and photo plastered everywhere?
But the "fluffy" feline seemed to take it all in stride
The kitty has been nicknamed "Princess Chunk" and, at 44 pounds, is a few pounds under the world record for fattest cat.
How's that for a distinction?
Anyway, she seems like such a sweet cat, and yes, she can walk despite her girth.
She was brought to the Camden County Animal Shelter in New Jersey as a stray, but is in a foster home right now because of her, well, generous size. The cages are a bit too snug for her.
If no one claims her, she'll be up for adoption. If that happens, maybe her new human can help her slim down.
And, in case you're wondering, the biggest cat came from Australia and weighed in at 46 pounds, 15 ounces.
Guess that defines the term, "fat cat."