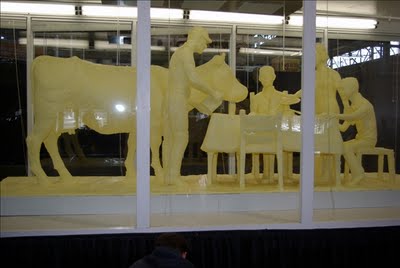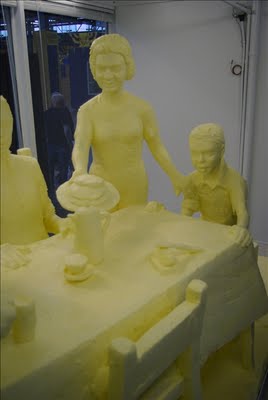 Yes, it's that time again ... time to head to Harrisburg and the Pennsylvania Farm Show.
These photos from the Farm Show media service show this year's great butter sculpture... but there's much more to the show than that (although these sculptures ARE amazing!)
If you've never been there, you must go. And be sure to check out the food court!
From cows to cooking demos, sheep shearing and mushroom munching -- the 2010 Pennsylvania Farm Show offers all this and more.
The 94th annual Farm Show is set for 8 a.m. to 9 p.m. Saturday through Jan. 16 at the Pennsylvania Farm Show Complex & Expo Center, North Cameron and Maclay streets, Harrisburg.
By the numbers, visitors can see up to 6,000 animals, 10,000 competitive exhibits and 270 commercial exhibitors. With a theme this year of "Keeping Pennsylvania Growing," Farm Show highlights include cooking demonstrations by the Pennsylvania Iron Chef Team, Eli Kirshtein from Bravo, Top Chef Las Vegas competition and the "World's Fastest Omelet Maker" Howard Helmer.
Young visitors can investigate Pennsylvania agriculture by visiting 21 learning stations around the complex. There will also be a renewable energy exhibit, a puppet show and a Broadway musical series, and favorites like the annual butter sculpture, Sheep-to-Shawl contest, high school rodeo, and baking contests.
Admission is free and parking is $10. For the complete schedule, visit www.farmshow.state.pa.us.