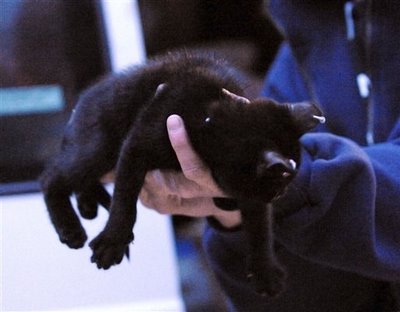 Associated Press Photo
Enough said?
Just read this...
WILKES-BARRE (AP) — A Pennsylvania woman has been ordered to stand trial for marketing "gothic kittens" with ear, neck and tail piercings over the Internet.
Dog groomer Holly Crawford faced a preliminary hearing Tuesday on animal cruelty charges.
Crawford's home outside Wilkes-Barre was raided Dec. 17 after the SPCA of Luzerne County received a tip that she was marketing the animals online for hundreds of dollars.
A prosecutor says Crawford inflicted pain on the cats to make money. Her defense attorney says state law says nothing about piercing cats and docking their tails. District Judge Paul Hadzick calls it a gray area of the law that needs to be decided by a trial judge or jury.
Charges against a second defendant, William Blansett, were dropped Tuesday after Crawford admitted she was solely responsible for piercing the cats.
___