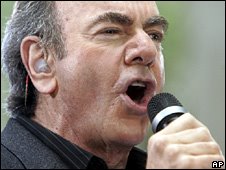 I'm always a bit torn when a singer or group that I loved years and years ago decides to tour again.
That's how I felt when Neil Diamond announced his latest tour. I saw him a few times back in the ... well... a decade in the last century (geez, how old am I?) and I considered getting a ticket when he was in Philly.
The price of the ticket was the first red flag. Sorry, Neil, but it was too much.
And then I kept thinking how he probably could not live up to my memories of the earlier concerts.
Guess I made the right decision, after reading this story.
Perhaps you have some similar stories to tell...
*******
Singer Neil Diamond has offered the audience of a recent concert a refund after performing with a raspy voice.
Diamond, 67, was diagnosed with acute laryngitis after the show in Ohio, Cleveland, on Monday.
The Sweet Caroline singer released a statement on his website apologising to fans, writing: "I haven't let you down before and I wont let you down now."
Fans have until 5 September to seek a refund. Diamond has also cancelled gigs in Wisconsin and Missouri this week.
Wednesday's performance in Wisconsin was rescheduled for Sept. 12, while the Missouri gig will now take place on Sept. 10, Diamond's web site also stated.