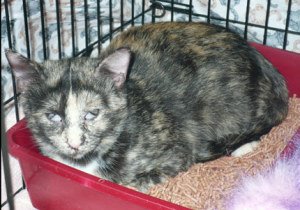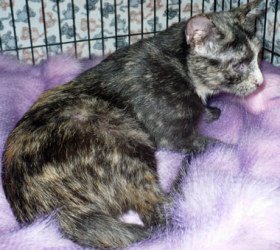 A few weeks ago, the world was abuzz over a cat — a very LARGE cat — that had been found strolling the streets in New Jersey.
This porker, which originally was thought to be a girl and was called Princess Chunk but, blush, then was ID'd as a male, weighed in at about 44 pounds.
That's a lot of cat.
As the story unfolded and the cat grabbed headlines and TV time far and wide — including an appearance on "Regis & Kelly" — everyone became enamored with her ... er, his ... tale.
Yes, everyone wanted this feline. In fact, the Camden County Animal Shelter fielded more than 500 applications from people around the world who wanted to open their doors to this kitty.
They apparently felt so bad that the cat — whose owner had fallen on hard times and lost her home to foreclosure and could no longer care for Chunk — had no place to call his own that they had to do something.
Naturally, being a cat person, I was glad to hear that a family had been found for Chunk.
And it also was interesting to catch a news story that detailed where Chunk was making an appearance to drum up attention for other homeless cats that needed to be adopted.
Good for him.
Because that's where this story gives me pause.
At this shelter alone, the staffers pointed out, no one who inquired about Chunk was interested in any of the other more than 200 cats and kittens there. And it had to euthanize about 1,000 cats last year, about a third of those taken in.
That's just one shelter.
It's great that Chunk caught the limelight and found a home, but just ask the Montgomery County SPCA, the Kitty Cottage, Stray Cat Blues or any of the many other rescue groups around here and they'll tell you the same thing.
They are bursting at the seams. They can't save everyone. They do so much good, but there's so much more to do.
These kitties may not be famous, but they deserve a forever home.
Here's just one example, which has been running in our Classified Section, from Stray Cat Blues with a heart-tugging photo:
"Charity was removed from a disreputable hoarder/rescuer where she was physically and emotionally neglected. When she came to SCB, she was thin and underweight, dehydrated and had respiratory and eye infections. Due to lack of proper veterinary care when she had an eye infection, her eyes were ulcerated and the skin started growing onto her eyes to protect them from the ulcers.
"She must be an indoor only kitty. In spite of her tough beginnings as well as being caged since kittenhood, this girl is really amazing. She was named Charity because Charity = Love. This young lady loves everyone. She loves people and gets along well with other cats. She will make a wonderful addition to any type of household."
Unfortunately for Charity and so many like her, hundreds of people don't clamor to adopt her.
Think about it.
Maybe you have room in your house for a homeless critter. Perhaps you can make a donation to one of these rescue groups. Or perhaps you can volunteer in some capacity.
But don't forget when you hear a story like Chunk's, that there are thousands more cats and dogs and other pets who will never make the news that desperately need homes.
Perhaps you won't have a "celebrity" added to your home, but you'll have a loving new member of your family who forever will be grateful for a second chance at life.