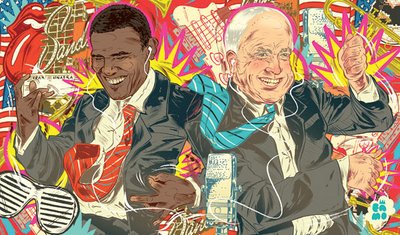 OK, Blender recently surveyed presidential candidates John McCain and Barack Obama to see how their musical tastes seem to run. Just what DO they have on their iPods? After all, what better way to choose the next president?
Heck, it's as good a way as any.
But my question is, since John McCain doesn't even know how to work a computer, much less the "Internets," would he really have a clue as to what an iPod is? Perhaps better to ask what's on his victrola.
Be that as it may, here are their top 10 iPod lists, and I'll let you pick the winner.
For my own two cents worth, I think Obama is trying a bit too hard to be hip; McCain, on the other hand, seems about right on.
And if you want to submit your own personal top 10 lists, be my guest...
John McCain:
1. Dancing Queen - ABBA
2. Blue Bayou - Roy Orbison
3. Take a Chance On Me - ABBA
4. If We Make It Through December - Merle Haggard
5. As Time Goes By - Dooley Wilson
6. Good Vibrations - The Beach Boys
7. What A Wonderful World - Louis Armstrong
8. I've Got You Under My Skin - Frank Sinatra
9. Sweet Caroline - Neil Diamond
10. Smoke Gets In Your Eyes - The Platters
Barack Obama:
1. Ready or Not - Fugees
2. What's Going On - Marvin Gaye
3. I'm On Fire - Bruce Spingsteen
4. Gimme Shelter - Rolling Stones
5. Sinnerman - Nina Simone
6. Touch the Sky - Kanye West
7. You'd Be So Easy to Love - Frank Sinatra
8. Think - Aretha Franklin
9. City of Blinding Lights - U2
10. Yes We Can - will.i.am