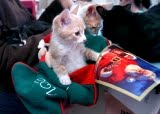 It's hard to imagine that people just drop off animals at a veterinarian's parking lot, figuring that the good doctors will care for them and find them homes.
Apparently that was the case this week at the North Penn Animal Hospital, when someone decided that someone else should take care of handling the needed adoptions.
So there are several little kittens hoping for a Christmas miracle.
Add these to all of the critters at the SPCA, area rescue groups and other vet hospitals, and it's enough to make you weep.
If you have a warm spot in your heart for the kittens at the North Penn Animal Hospital in Lansdale, call (215) 855-5853 for more information.
And if you can adopt or donate to a rescue group or SPCA, please do so -- all year 'round.