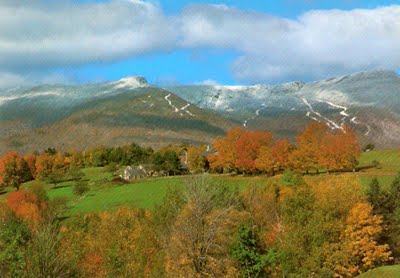 A week's vacation in Vermont truly is heaven... and it was great to see some snow on the the top of Mount Mansfield. For a few days, the road over Smuggler's Notch even was closed... it then reopened, but will close for the winter, as it does every year. If you've never been over the notch, you MUST go... and you'll see why it can't stay open once the snow flies.
Trekking around cemeteries, visiting the Bread and Puppet Museum, strolling through Burlington, sipping the wine, relaxing at Pie in the Sky and being served a drink at the local movie theater -- yes, that's true -- is all part of the fun of Vermont.
The peace and beauty are the real reasons to go, however.
But, now it's back to work. Memories and dreams sustain, however.