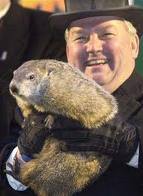 In case you missed it, Punsxutawney Phil proclaimed the bad news this morning: SIX MORE WEEKS OF WINTER!!
Yes, just when you may have been hoping that the worst was past us, Phil dispelled all doubts.
Hey, did you really think we were getting off that easy?
But really, Groundhog Day is great. And watching this spectacle on PCN is a must see.
I've never been to the town on Groundhog Day, but I have been there to see Phil in his "spring digs" -- a portion of the town library complete with glass walls so you can see him.
The park boasts a huge wooden groundhog statute...
really, you must go. The town bears no resemblance to the famous movie, but it's a great trip nonetheless.
Now, back to the grand weather prediction.... Phil told us what we all expected anyway... so bundle up!