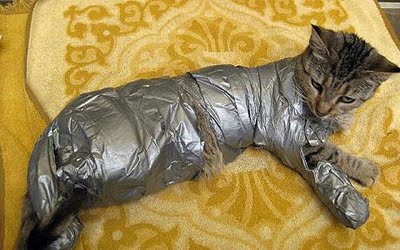 Who in the world would do something like this to an animal? Some sick person in the Rhawnhurst section of Philadelphia, obviously. This poor cat was covered in duct tape and dumped in a yard there, according to the Pennsylvania Society for the Prevention of Cruelty to Animals.
A $1,000 reward for information leading to the conviction of the person who wrapped the female cat is being offered by the PSPCA.
Luckily a woman found the cat and took it to the humane society, where it was sedated and the tape removed.
Staff at the shelter have named the cat Sticky.
"This is a very very very sweet cat," George Bengal, of the PSPCA, told Fox News. "I can't imagine someone doing this to this cat. I mean, this is a domestic cat. Obviously, it was owned, it can be handled very easily."
Anyone with information on the crime should contact the SPCA's Cruelty Hotline at
(866) 601-7722.
I certainly hope someone comes forward and turns in this sicko.
And then an "appropriate" punishment should be offered.
Are you listening, Michael Vick?