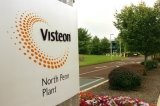 The North Penn/Indian Valley region is losing another company -- this time it's Visteon in Worcester Township. Some people may remember it as Ford Electronics or one of its earlier presences in the community.
But, by year's end, the plant is to be shuttered and about 300 people will be out of a job.
This has been coming for some time; in fact, one story from The Reporter's files from 1995 told of 120 workers to be laid off at the Ford plant, bringing a loss of 370 jobs for the year.
In that 1995 article, it noted that the Ford plant had ranked fourth in The Reporter's Top 100 list of the area's largest employers for the year, having 2,300 workers.
Another one bites the dust. More area people without jobs.
A sad time indeed.