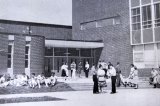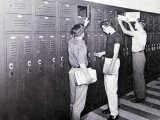 Did you head out to the last open house at Souderton Area High School on Saturday? As a graduate, I decided to give the place a last look.
It has changed a lot in some areas since I was a student; and it some areas, I could walk right in and attempt to follow my schedule unimpeded.
It's a bit sad to think that the Grand Old Lady will be razed so some development or another can take its place.
But it's inevitable. She's showing her age in many areas.
But it's still hard to see her go.
I wish the event would have drawn even more people, though. I didn't see anyone from my class -- at least anyone I recognized. Memorabilia was sparse.
But at least the public was allowed back in for one last visit.
So if you missed your chance to pay your respects, sorry.
There won't be another chance...