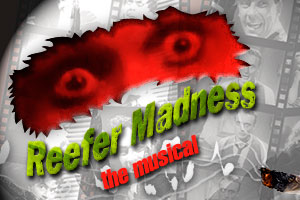 OK, if you haven't ever been to Montgomery Theater in Souderton, get there before Oct. 4, while "Reefer Madness: The Musical" is still being featured.
This is such a great production -- as they are billing it, a "Joint" production between Montgomery Theater and 11th Hour Theatre Company.
If you were fortunate enough to see that horrible 1936 anti-marijuana film, "Reefer Madness," you are in for even more of a treat at the theater when you take in this riotous parody of that old black and white cult classic.
This cast is absolutely top-notch... there is just nothing bad to say here. And understand, I'm no theater critic; I just know when I've had an absolute blast!
The tale of little Jimmy Harper and Mary Lane will have you laughing, clapping and singing along to the tune that gets stuck in your head... "Reefer Madness! Reefer Madness!"
The choreography, makeup, costumes.... oh, you just have to go enjoy this one for yourself.
Jesus is not to be missed, either. Heck, all of these performers were one toke over the line.
This little theater outdid itself by pairing up with 11th Hour... Check it out and see if you don't agree!
But please, folks, leave the little tykes at home. This is NOT a children's production.
It definitely IS a crowd-pleaser for anyone with a sense of humor.